Harissa and Brown Butter Fried Egg
The combination of brown butter and harissa bring a fried egg to a new a level and a minty garlic yogurt provides the perfect taste contrast as you bite into layers of flavor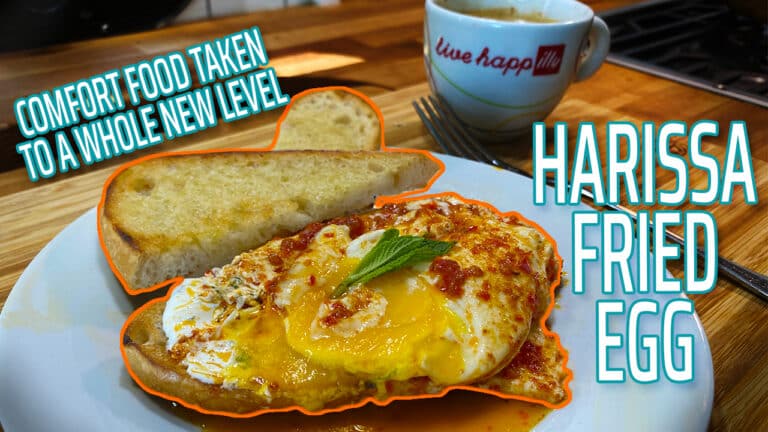 Level:  Easy
Servings: 2
Prep Time: 5 Minutes
Cook Time: 15 Minutes
Frying pan
chefs knife
Spatula
Microplane
Small mixing bowl
From your pantry
2 Eggs
1 tsp Olive Oil
2 Tsp Butter
1 clove Garlic
Salt to taste

From the store
2 Tsp Greek Yogurt
1 lemon
1 tsp fresh Mint
2 slices Bread
1 tsp Harissa
This dish is mostly about prep , three steps, and comes together quickly at the end.
The Toast: Cut two slices of bread and drizzle one side with olive oil.

The Yogurt spread:

Put two tablespoons of yogurt into the bowl.

Finely chop the mint,

Zest the lemon and garlic

combine all  this into the bowl along with some salt a

nd mix. Set this aside to let the flavors mingle.

Crack your egg into a small dish. 
Cooking is in two steps.
Toasting the Bread
In a medium hot skillet put the bread oil side down and toast until it is golden brown.

The flip the bread and toast the other side. The second side will take less time than the first. When cooked you can set the bread aside.
Frying the egg:
Put the butter into the pan and spoon the harissa on top.

As the butter melts and starts to brown mix well to combine the Harrisa.
When the butter foams add you egg and spoon the butter mixture over the egg to  baste until done. 
Spread a thick layer of yogurt onto one of the pieces of tasted bread and then slide the egg out to top the yogurt. 
Cut the other slice of toast diagonally and set it on the side of the plate.
You can spoon more butter on and top with a couple of mint leaves.