Roast Cornish Game Hen is the perfect answer to roasting a bird in an air fryer. They are quick and easy to prepare, stay juicy and the skin crisps up like big bird.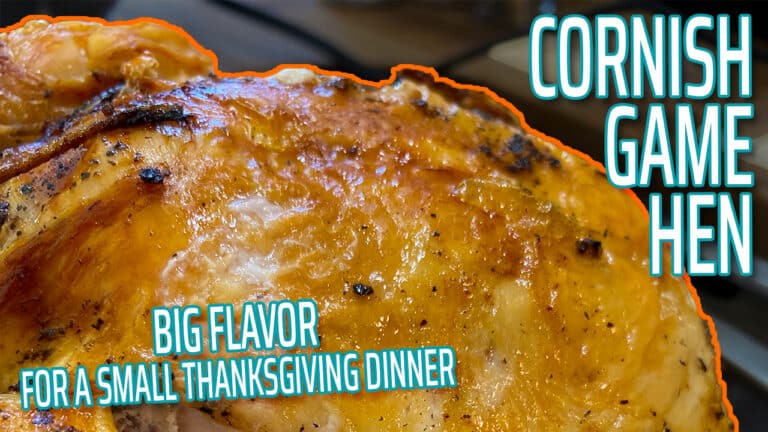 Level:  Easy
Servings: 2
Prep Time: 15 Minutes
Cook Time: 30 Minutes
Air Fryer
Chefs Knife
Tongs
Meat Thermometer
Mixing Bowl
Butcher Twine
Aluminum Foil
From your pantry
Olive Oil
Garlic
Salt and Pepper

From the store
Cornish Game Hen
1 lemon
Onion
Rosemary
Sage
Thyme
Start with your aromatics:
Trim the tip and root off the onion, peel it and then rough chop it.

Peel your garlic which is best done by giving it a smash under you knife and this also opens it up.

Rough chop your lemon

Rough chop your herbs.

Combine all these ingredients into your mixing bowl and add olive oil, salt and pepper and toss to coat.
To prepare the Hen make sure you have an easy to sanitize work surface,  like a plastic cutting board, ready. I use a layer of aluminum foil on top of my plastic board just to be safe. 
Cut the bird out of the packaging and let any fluid drain. You may have a 'neck in' bird so check the cavity for any parts and then rinse the bird under some running water and pat dry.

Put the bird on the board breast side up and get the skin as dry as you can.

Now take all the aromatics you prepped and push them into the large cavity between the legs.

This is all going to shrink as it cooks so you want to have this 'overstuffed'.
Go ahead and coat the skin with salt and pepper and rub in olive oil.
Take a piece of butcher twine and tie the legs together to close the cavity. 
You want to get an internal temperature of 165F in the breast of the hen. Exactly how long to cook the hen will depend on its size and the starting temperature but an average sized game hen starting at room temperature should take about thirty minutes overall.
Preheat your air fryer to 375F or 190C

Place the hen, with the breast side down, into the basket and cook for approximately 20 minutes.

Turn the bird over and cook for approximately ten more minutes.

Lift the bird out onto the cutting board, let it rest for ten minutes and you have your very own roast chicken for two. 
You can serve this whole and carve at the table, Cut the hen in half and serve half to each person or 'break it down' like you would a chicken and serve on a platter.
Pair this with mash potatoes and gravy or serve it cold on a salad.