White Bean and Spinach Soup
Today we are cooking White bean and Spinach soup. Easy to make and great to freeze for quick mean on a drive day.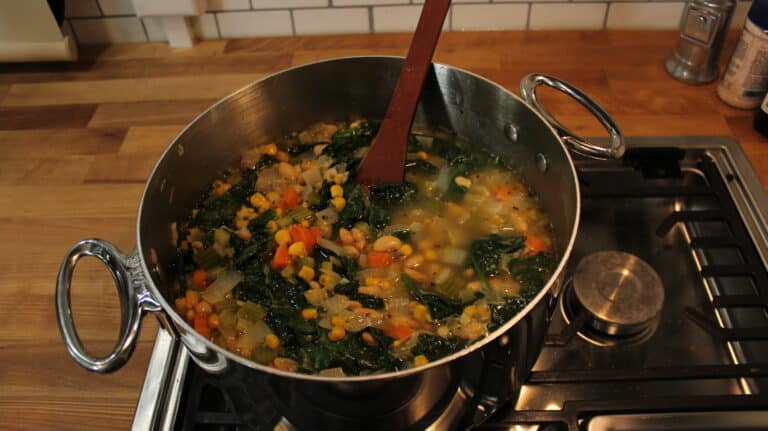 Level:  Medium
Servings: 6
Prep Time: 10 Minutes
Cook Time: 30 Minutes
4+ quart saucepan 

Chefs knife

Cutting board

Spatula or wooden spoon

1 Quart food containers

 
From your pantry
olive oil

1 Tsp butter

1 teaspoon salt

1/2 teaspoon fresh ground pepper

1/2 teaspoon dried oregano

1 bay leaf

From the store
1 yellow onion, diced

1 large carrot

3 stalks celery

1/4 cup chopped fresh parsley

4 cloves garlic

6 cups low sodium vegetable broth or chicken broth

2 cans (15.5 ounces, each) Great Northern Beans

1 cup canned corn kernels

2 cups fresh baby spinach
Peel and dice the yellow onion, mince the Garlic and peel and chop the carrots into equal-sized pieces.

Dice the celery sticks by cutting the rib in two lengthwise and then into ¼ inch rounds. Be sure to pull out any strings from the celery rib.

Rough chop the fresh parsley.

Open the cans of Northern Beans and Corn Kernels and drain them. (If you're in an RV wait to drain the until after you add the broth and use the broth container so you don't put bean juice in your grey water tank!) 
Heat the butter and the olive oil over medium-high heat in your pan.

Add onions, carrots, celery, and parsley to the heated oil; cook for 5 minutes, or until just tender.

Stir in garlic and cook for 30 seconds more.

Add vegetable broth; stir in salt, pepper, dried oregano and bay leaves.

Bring to a boil; reduce heat to a simmer and cook for 5 minutes.

Stir in beans and corn kernels; continue to cook for 5 minutes.

Taste for salt and pepper; adjust accordingly.

Add spinach and cook for 1 minute. Remove from heat.
Ladle soup into bowls; sprinkle with parmesan cheese and serve with toasted bread slices. When the soup has cooled put the remainder into freezer safe 1 Qt containers (I use Deli containers), label and date them and freeze. On a drive day, pull on one of of the freezer and leave it in the sink for a quick and easy reheat at the end of a long journey.
While the fish cooks on the second side add a large spoonful of the pea mixture to the center of the plate. Pour the lemon broth around the outside of the peas and place the salmon on top of the peas. Add the top leaves of a mint spring for garnish and serve.